To read more, click here: Santa Clara Community Food Guide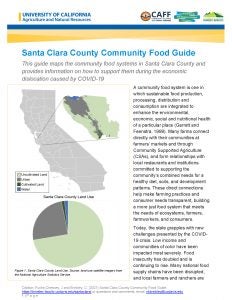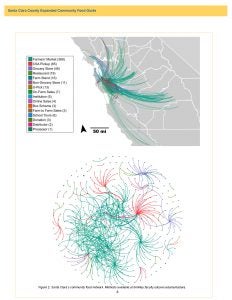 Read more at link above
Contributors:
Farms
Mark Lewis Orchards
A&A Organic Farms
Abounding Harvest Mountain Farm
Achadinha Cheese Company
Alberto's Farm
Allard Farms
Allied Arts Apiaries
Alma Produce
Amen Bee Products
Andy's Orchard
Anguianos Farm
Ashley Farm
Avila Farms
Bao Lor Produce
Bautista Ranch
Bay Fresh Berry Producer
Berry Island Farms
Berrylicious
Blue Heron Farms
Bohemian Creamery
Borba Family Farms
Borello Family Farms (Ranch Two)
Borello Farms Inc. (Ranch Four)
Borello Farms Inc. (Ranch Three)
Borugi Farms (Ranch One)
Brothers Ranch
Buckley U-Pick Cherry Farms
C & M Farms (Adrian)
C Farm
C.J. Olson Cherries
Cabrillo Farms
Capay Organic
Castellanos Farms
Central Coast Creamery
Cheng & Susan Farm
Christopher Ranch 
Clara's Egg Farm
CMC Farms
Coke Farm
Cortez Farms B
Cypress Grove
Dayrit Seafood
Deer Hollow Farm
Diaz Farms
Doan's Farm
Dominique Farms
Dragon Baby Seafood
Emma Prusch Farm Park
Esquivel Farms
Eva Farm
Eva Farm
F/V Anne B (Fishing boat)
Far West Fungi
Farm To Your Tables
Fenella's Berries
Fifth Crow Farm
Filoli
Flying Disc Ranch
Fogline Farm
Four Acorns Farm
Franklin Thor Farm
Frantoio Grove
Freshpoint San Francisco
From the Sea to You
FT Fresh Produce
Full Belly Farm
G & A Farm
G & S Farm
Garcia Farms
Garden to Table 
Garden Variety Cheese
GB Egg Farm
Gibson Farms
Gilroy UPick
Giusti Farms
Gizdich Ranch
Great Valley Poultry
Green Oaks Creek Farm
Grumpy Goats Farm
Hamlow Farms
Happy Boy Farms
Hector's Organic Farm
Henninger Hill Apiary
Her Farms (Chia Neng)
Hidden Villa Farm & Wilderness
J & P Consentino Family Farm  
J.V. Farm
J&J Ramos Farms
J&M Farms
J&M Ibarra Organic Farms
Jacob's Farm
Jacobs Farm at Martial Cottle Park
Jurevich Farms
K and J Orchards
K-Lee Farm
Kabeela Inc
Kai's Fresh Asian Produce
Kashiwase Farms
Kem Farms 
Ken's Top Notch Produce
Kheang's Family Farms
Koda Farms
Kojima Farms
Koua Xiong Farm
KV Farm
Larse Farms
Lazy K Ranch Cherry Farm
Ledesma Family Farms
LeftCoast Grassfed Beef
Lemus Farms
Live Earth Farm
LJB Farms
Loaves and Fishes Organic Farm
Lopez Organic Farm
Los Pinos Organic
Lujan Farm
Magaña Farms
Mai Vang – Yang Produce
Marin French Cheese Co
Markegard Family Grass-Fed
Mary's Chicken
Medina Berry Farms LLC
Mellow's Farms
Miramonte Farms
Mohi Farm at Granada Theatre
Molino Creek Farm Collective
Moon Meadow Beef
Morsey's Farmhouse Creamery (farm)
Mova's Farm
Mulberry Guy
Narci Organic Farm
Nha Trang Produce
Novakovich Orchards
O'Donohue Family Stanford Educational Farm
Organic Pastures Dairy Company
Oya Organics
P&C Farm
P&K Farms
Pa Vang Produce
Pajaro Pastures 
Paoying Farms
Parky's Produce
Petaluma Poultry
Pham's Fresh Fish
Pinnacle Organic (Phil Foster Ranch)
Pirate Creek Bees
Poco Loco Organic Farms
Prather Ranch
Prevedelli Farms
Priti and Ramtavar Singh Farm
Rancho Llano Seco 
Ray of Sunshine Farm
Red Barn Farm Pasture-Raised Poultry in San Jose
Resendiz Farms
RHJ Organics
Rodriguez Brothers Ranch
Rodriguez Farms
Rojas Family Farms
Rudy Bungcayao
Salinas Farm
San Martin Milk Company
San Miguel Produce
Schletewitz Family Farms
Shoup Farms/Westpak Avocado
Small Bees
Sol Seeker Farm
South Valley Mushroom Farm
Spade and Plow Organics
Stackhouse Brothers
Straus Family Creamery
Swank Farms Produce Inc
Tapley Farms
Taylor Ranch
Terry Farms
Thai Yang Mai Vue Farm
Thao's Family Farm (Ther Thao)
The Forge Garden at Santa Clara University
The Honey Ladies
The Lexington House
The Nest Box
Three Brothers
Tomatero Organic Farm
Topete Family Farm
Triple Delight Blueberries
Triple J Cellars
Tu Universo Farms
V & V Farms
Vasquez Farms
Veggielution Community Farm
VV Farm DBA Sunshine Organic
West Coast Farms LLC (Ranch 5)
Whitstable Farm
Willow Glen Honey
Wind Dancer Ranch
Windsor Family Farm
Winters Fruit Tree
Winters Fruit Tree
Wisher Farm
Xiong Farm
Yerena Farms
Yia Moua Farm
Yummy Tummy Farm
Farmers' Markets
Alameda Farmers' Market
Almaden-Via Valiente Farmers' Market
Alum Rock Village Farmers' Market
Aptos Farmers' Market at Cabrillo College
Berryessa Farmers' Market PCFMA
California Avenue Farmers' Market
Cambrian Park Farmers' Market
Campbell Farmers' Market
College of San Mateo Farmers' Market
Creekside Farmers' Market
Cupertino Farmers' Market
Downtown Los Altos Farmers' Market
Downtown Palo Alto Farmers' Market
Downtown San Jose Farmers' Market
Evergreen Farmers' Market PCFMA
Gilroy CFM
Great Mall Farmers' Market
Heart of the City Farmers' Market
Hollister Farmers' Market
Jack London Square Farmers Market
Kaiser San Jose Farmers' Market
Kaiser Santa Clara Farmers' Market 
Los Gatos Certified Farmers' Market 
Milpitas Farmers' Market
Monterey Farmers' Market
Monterey Farmers' Market at Del Monte Center
Moraga Farmers Market
Morgan Hill Farmers' Market
Mountain View Farmers' Market 
Orinda CCCFM Farmers Market
Princeton Plaza Farmers' Market
San Jose Japantown Farmers' Market
San Mateo Farmers Market
Santa Clara Farmers' Market
Santa Teresa Farmers' Market
Santana Row Farmers' Market
Saratoga Farmers' Market at West Valley College
Saratoga Village Farmers' Market (Saratoga Prince of Peace Farmers' Market)
Stanford Farmers' Market
Sunnyvale Farmers' Market
V.A. Palo Alto Farmers' Market PCFMA
Vallco Farmers' Market
Walnut Creek Farmers' Market
Westfield Oakridge Farmers' Market
Willow Glen Farmers' Market
Grocery Stores
Ava's Downtown Market and Deli
Bi-Rite Market – San Francisco
Bi-Rite Market Divisadero
Cornucopia Community Market
Corralitos Market and Sausage Co.
Draeger's Market Los Altos
Draeger's Market Menlo Park
Hilltop Market 
Jerome's Carmel Valley Market
Marukai Cupertino
Merry Cherry Fruit Stand
Mitsuwa Marketplace
Mollie Stone's Palo Alto
New Leaf Community Market Westside Santa Cruz
New Leaf Community Markets – Capitola
New Leaf Community Markets- Aptos
New Leaf Community Markets- Half Moon Bay
New Seasons Market
Piazza's 
Safeway 179 Branham Ln San Jose
Safeway 1st St Gilroy
Safeway 4950 Almaden Expy San Jose
Safeway Berryessa Rd San Jose
Safeway Cottle Rd San Jose
Safeway E Calaveras Blvd Milpitas 
Safeway E Dunne Ave Morgan Hill
Safeway Miramonte Ave Mountain View
Safeway N Shoreline Blvd Mountain View
Safeway Rivermark Plaza Santa Clara
Safeway S Bernardo Ave Sunnyvale
Safeway Stevens Creek Blvd San Jose
Safeway Tennant Station Morgan Hill
Santo Market 
Staff of Life – Santa Cruz
Star Market Salinas
Sunshine Health Foods
Whole Foods Los Altos
Whole Foods Palo Alto
Wild Roots Market Boulder Creek
Wild Roots Market Felton
Institutions
Arrillaga Family Dining Commons
Bronco Pantry
EVGR Dining
HomeSafe Women's Shelter
Loaves and Fishes Family Kitchen
R&DE Teaching Kitchen @ Stanford
Stern Dining
Village Harvest
Wilbur Dining
Other Stores
Almaden Valley Nursery
Butter Paddle
Casa de Fruta
Clos La Chance Winery
Felton Nutrition 
Freedom Meat Locker
Guglielmo Winery
Jason-Stephens Winery
Not Too Shabby 
Silva Ranches Feed Store
The Olive Bar
The Quail and Olive
The True Olive Connection
Three Sisters
Water and Leaves
Restaurants
Brown Chicken Brown Cow
Camino Brewing Company
Chromatic Coffee Co.
Morsey's Creamery (restaurant)
Morsey's Farmhouse  
Pizzeria Delfina
Prime Silicon Valley
San Martin Cafe
The Gate at Murieta Inn and Spa 
The Grove Bar and Grill
The Penny Ice Creamery 41st Ave Santa Cruz
The Penny Ice Creamery Aptos
The Penny Ice Creamery Cedar St Santa Cruz
The Table
True Food Kitchen
Vina Enoteca
Voyager Craft Coffee