To read more, click here: Sacramento County Community Food Systems Guide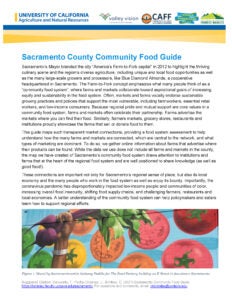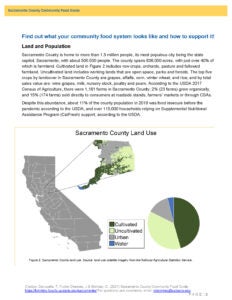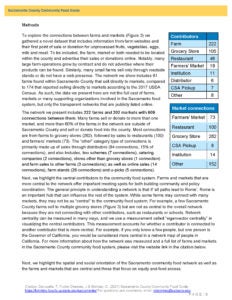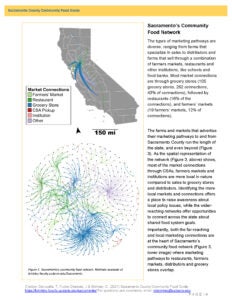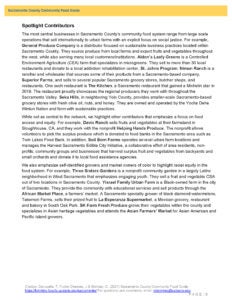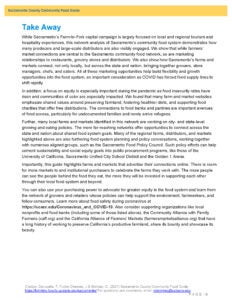 Sources:
Top 5 Crops: https://www.nass.usda.gov/Publications/AgCensus/2017/Online_Resources/County_Profiles/California/cp06067.pdf.
Farm to Fork: https://www.visitsacramento.com/restaurants-and-drinks/farm-to-fork/.
2019 Sacramento County Crop and Livestock Report: https://agcomm.saccounty.net/Documents/CropandLivestockReports/2019Report.pdf
General Produce: https://www.generalproduce.com/
Aldon's Leafy Greens: https://www.aldonsleafygreens.com/our-story
Niman Ranch: https://www.nimanranch.com/about-niman-ranch/
The Kitchen: https://thekitchenrestaurant.com/the-source/
Seka Hills: https://www.sekahills.com/
Davis Ranch: https://www.davisranchproduce.com/
Helping Hands Produce: https://www.globalnpo.org/US/Sloughhouse/421597907887862/Helping-Hands-Produce
Yisrael Family Urban Farm: https://www.yisraelfamilyfarm.net/
Takemori Farms: https://www.yelp.com/biz/takemori-farms-elk-grove
SK Farm Fresh Produce: https://www.facebook.com/pages/Asian-Farmers-Market/190769794385107
List of Contributors to the Sacramento County Food System
Farms
A.V. Thomas Produce
Abe-el Produce
Adobe Creek Orchards
Aldon's Leafy Greens
Aloha Seafood
Andy Boy
Apollo Olive Oil
Apple Creek Vineyard Farm and Nursery
Azolla Farm
Bagdasarian
Baloian Farms
Bariani Olive Oil
Bastiao Farms Goblin Gardens
Bee Heaven Farm
Bee Honest Farms
Bellwether Farms
Bitner Ranch
Blossom Hill Orchards
Blue Heron Farm
Bolthouse Farms
Bondolio
Booth Ranches
Branigan's Turkey Farm
C&S Strawberry Patch
Cal-Organic Farms
California Endive Farms
Capay Organic
Caskey Pine Lawn Farms
Cecilia's Garden
Chandler Farms
Chase National Kiwi Farms
Chin Family Farms Organic
Christopher Ranch
Chuck Baker
Coffee Pot Ranch
Coke Farm
Columbine Vineyards
Colwell Thundering Herd Ranch
Common Kettle Farm
Contreras Ranch
Costa Farms
Dalena Farms
Dave Wilson Nursery
Davis Ranch
Dawson Ranch
Deardorff Family Farms
Decas
Del Rio Botanical
Delta Islands Organic
DePalma Farms
Dewey Farms
Dhillon Farm
Double M Farms
Double-N Potatoes
Dragon Gourmet Mushrooms
Driscoll's
Durst Organic Growers
Dwelley Family Farms
Eatwell Farm
Emigh Lamb
Etum Organics
Ewetopia Dairy
Farmington Fresh
Faurot Ranch
Ferrari Farms
Fiddlers Green Farm
Fiddyment Farms
Fiery Ginger Farm
Fiscalini Cheese Company
Five Dot Ranch
Fog Willow Farms
FreshWay Fish
Frog Hollow Farm
Full Belly Farm
Full Flavor Farm
Full Moon Farm
G&S Farms
Garden of Eatin'
Gavel's Bees LLC
Gavel's Farm
Ge Moua Farm
Gemperle Family Farms
Golden Acorn Farm
Golden Bear Ranches
Gomez Farm
Good Humus Farm
Granny Mays Strawberry Farm
Great Valley Poultry
Green Almond Farm
Greene and Hemly
Grimmway Farms
Grumpy Goats Farm
Gundermann Farms
H&K Farms
Hensleigh Healthy Beef
Hitchcock Farms
Hog and Dogs Ranch
Indart Ranch/ B&R Farms?
Islote Farms
Marchini Farms
J&J Ramos Farms
Jacobs Farm
Jayleaf
Jeff Boldt Farms
Joe Green Ranch
Joe Yeung Specialty Farm
John McCormack Company
Johnston Farms
Jollity Farm Goat Dairy
Kay Dix Inc.
Khang Farms
King Fresh Produce
Kingsburg Orchards
Local Yolk
Lockewood Acres
Lucero Organic Farms
M&L Campuzano Farms
Mandarin Hill Orchards
Mangini Ranch
Mann's
Mary's Free Range Chicken/Pitman Farms
Massa Organics
Maywood Farms
Mohr-Fry Ranches
Monarch Valley Farm
Moonrise Grove
Mud Dauber Farm
Nai's Berry Farm
Natase Honey Farm
Nathan and Fam Lee Strawberry Stand
Natural Trading Co.
Niman Ranch
O'Connell Ranch
Ocean Mist Farms
Okui Farm
Orangevale Fruit Co.
Orchard View Cherries
Organic Pastures Co.
Pacific Fresh Seafood Company- Sacramento
Passmore Ranch
Patrick's Garden
Paul's Bees
PepperBelly Farm 
Peri & Sons
Perry's Garden- Garden Hwy Garden
Persian Fruit Tree Nursery
Polestar Farm
Pope Taylor Ranch
Premier Mushrooms
Rainbow Orchards
Ramos Orchards
Rancho Llano Seco
Ratto Bros.
Ray Yeung Farms
Rhythm and Blueberries
Riverdog Farm
Roemer Farm Fresh Eggs/ Pumpkin Patch
Rosa Brothers Milk Company
Sacramento Sprouting Company
Sage Fruit Company
Salad Cosmo
Salle Orchards
San Miguel Produce
Sarabian Farms
Say Hay Farms
Sciabica's California Olive Oil
Seka Hills
SGS
Shaft's Cheese Company
Sierra Nevada Cheese Company
SK Farm Fresh Produce
Skyelark Ranch
Smit Farms
Snow's Citrus
Sola Bee Farms
Sonoma County Poultry
Sowing Solidarity
Spease Apiaries
Springhill Jersey Cheese
Steamboat Acres
Stemple Creek Ranch
Stillwater Orchards
Stone Lake Farms
Strutz Ranch
Sun's Strawberry
Sunnyside Packing Company
Superior Farms Ranch
Sweetwater Nursery
Symms Fruit Ranch
T&D Willey Farms
Tairwa' – Knoll Farms
Takemori Farms
Terra Firma Farm
Thao Farms
The Cloverleaf Farm
The James Ranch
The Natomas Farm
The Pumpkin Farm
The Refarmery
The Yisrael Family Urban Farm
Thomas Mountain Organic Farm
Three Sisters Gardens
Top Brass Produce
Turlock Fruit Co. Growing Region 51579 West Nees Avenue, Firebaugh, CA 93622
Twin Peaks Orchards
Vaca Valley Orchard Co.
Van Groningen & Sons
Vessey and Company
Vierra Farms
Wada Farms
Wawona Packing Company
Wilder Ranch Produce
Wineforest Wild Foods
Winters Fruit Tree
Wolfe Ranch Quail
Yagi Brothers Produce
Zittel Farms
Farmers Markets
African Market Place
Asian Farmers' Market
Capitol Mall Farmers' Market
Davis Farmers' Market
Galt Friday Night Farmers' Market
Historic Folsom Farmers' Market
Kaiser Permanente Point West Farmers' Market
Laguna Gateway Center Farmers' Market
Midtown Farmers' Market
Natomas Farmers' Market
Oak Park Farmers' Market
Orangevale Farmers' Market
Romano's Farmers' Market
Sacramento Central Farmers' Market
San Rafael Farmers' Market
Stonestown Farmers' Market
Sunrise Light Rail Station Farmers' Market
The Farmers' Market at UC Davis Health
Walnut Creek Farmers' Market
Restaurants
Acquerello SF
American River College Oak Cafe Restaurant
Allora
Back Bistro
Beast and Bounty
Bella Bru Cafe Carmichael
Binchoyaki
Birdie G's
Birdsong SF
Brasserie Capitale
Butter
Canon
Carpe Vino
Che Fico
Del Paso Country Club
Ella Dining Room
Fabian's Italian Bistro
Formaggio
Frank Fat's
Goldfield Trading Post
Grange Restaurant and Bar
Hawks
Hawks Provisions and Public House
Karen's Bakery
Knife Plano
Kru
Localis
Love at First Bite Cafe
Magpie Cafe
Marly and Moo
Mulvaneys B&L
North Ridge Country Club
Oakwater American Bistro
Onespeed Pizza
Origami Asian Grill
Paragary's
Playa Provisions
Pushkin's Bakery
Scott's Seafood Grill & Bar
Serpentine Fox Prohibition Grille
SingleThread Farm, Restaurant, & Inn
Skool SF
Taste Restaurant
Taylor's Kitchen
The Kitchen
The Sutter Club
The Waterboy Restaurant
Wayfare Tavern
Grocery Stores
Adam's Meat Shop
Bel Air Pharmacy- East Bidwell Street
Bel Air Pharmacy- Freeman Lane
Bel Air Pharmacy- Laguna Boulevard
Bel Air- Arden Way
Bel Air- Arena Boulevard
Bel Air- Elk Grove Boulevard
Bel Air- Elk Grove Florin Road
Bel Air- Florin Road
Bel Air- Fruitridge Road
Bel Air- Golden Centre Lane
Bel Air- Manzanita Avenue
Bel Air- Rush River Drive
Bel Air- Walerga Avenue
Bel Air- West El Camino Avenue
Corti Brothers
Foodmaxx- Florin Road
Foodmaxx- Sunrise Boulevard
Foods Co.- Northgate Boulevard
Foods Co.- Stockton Boulevard
KP International Market
La Esperanza Supermarket
Nugget Markets- Elk Grove Boulevard
Nugget Markets- Florin Road
Oto's Marketplace
Raley's Pharmacy- Douglas Boulevard
Raley's Pharmacy- Freeport Boulevard
Raley's Pharmacy- Madison Avenue
Raley's Pharmacy- Marconi Avenue
Raley's Pharmacy- San Juan Ave
Raley's Pharmacy- West Main Street
Raley's- Alamo Drive
Raley's- Blue Ravine Road
Raley's- E. Morada Lane
Raley's- East Bidwell Street
Raley's- Elk Grove Boulevard
Raley's- Fair Oaks Boulevard
Raley's- Folsom Boulevard
Raley's- Lichen Drive
Raley's- Natomas Boulevard
Raley's- S. Lower Sacramento Road
Raley's- Sunrise Boulevard
Raley's- Twin Cities Road
Reeds Gourmet Meat Co.
Sacramento Natural Foods Co-op
Safeway- 19th Street
Safeway- Alhambra Boulevard
Safeway- Arden Way
Safeway- Crocker Drive
Safeway- Del Paso Road
Safeway- Dewey Drive
Safeway- Elk Grove Florin Road
Safeway- Elkhorn Boulevard
Safeway- Folsom Boulevard
Safeway- Greenback Lane
Safeway- Howe Avenue
Safeway- Laguna Boulevard
Safeway- Madison Avenue
Safeway- Manzanita Avenue
Safeway- Prarie City Road
Sam's Club- Power Inn Road
Save Mart- Elk Grove Florin Road
Save Mart- Folsom Boulevard
Save Mart- Gerber Road
Save Mart- Kiefer Boulevard
Smart & Final Extra- Northgate Boulevard
Smart & Final Extra!- Elk Grove Boulevard
Smart & Final Extra!- Fair Oaks Boulevard
Smart & Final Extra!- Freeport Boulevard
Smart & Final Extra!- Madison Avenue
Smart & Final Extra!- Stockton Boulevard
Smart & Final Extra!- Sunrise Boulevard
Smart & Final Extra!- Watt Ave
Smart & Final- 28th Street
Smart & Final- Madison Avenue
Sprouts Farmers Market- Del Paso Road
Sprouts Farmers Market- Del Rio Road
Sprouts Farmers Market- East Bidwell Street
Sprouts Farmers Market- Greenback Lane
Sprouts Farmers Market- Laguna Boulevard
Sprouts Farmers Market- Marconi Avenue
Stop and Shop- Dry Creek Road
Stop and Shop- Edison Ave
Stop and Shop- El Camino Avenue
Stop and Shop- Folsom Boulevard
Stop and Shop- Madison Avenue
Taylor's Market
Miller Meats
Walmart Neighborhood Market- Elk Grove Boulevard
Walmart Neighborhood Market- Madison Avenue
Walmart Neighborhood Market- Marconi Avenue
Walmart Neighborhood Market- Sunrise Boulevard
Walmart Supercenter- Antelope Road
Walmart Supercenter- Auburn Boulevard
Walmart Supercenter- Delta Shores Road Cir S
Walmart Supercenter- Florin Road
Walmart Supercenter- Folsom Boulevard
Walmart Supercenter- Gerber Road
Walmart Supercenter- Riley Street
Walmart Supercenter- Twin Cities Road
Walmart Supercenter- Watt Avenue
We Olive- Folsom
Whole Foods Market- Arden Way
Whole Foods- Palladio Parkway
Distributors
Blue Diamond Growers
Elegant Beans and Beyond
General Produce Company
Produce Express
ProPacific Fresh
River City Produce Sales
Rivermaid Trading Company
Superior Farms
CSA Pickups
21st Street & 3rd Ave
4th and C St. Farm
5th and C street Farm
Cloverleaf CSA pick up location
Cloverleaf CSA pick up location
Kechenu Farm
Rodeo Way & L Street
Other (Institutions, Catering Companies, Nurseries, Farm Stands, Box Schemes)
M. Winn Elementary School
Christophe's Catering
Farmers's Wife Farmers' Market Stand
Healthy Planet USA
Natomas Unified School District
NP3 Elementary School
Orangevale Fruit Box
Orangevale Market Produce Box
Rio Linda Elverta Food Closet
River City Food Bank
Robla School District
Sacramento Food Bank & Family Services
Saint John's Program
South Sacramento Interfaith Partnership Food Bank
Talini's Nursery
The Hidden Table
The Plant Foundry
Turlock Fruit Company
Washington Unified School District